ENTRY LEVEL - VERSE & PROSE
If you would like your child to take their examination please make sure they learn both poems off by heart.
Please click the PDF below for the words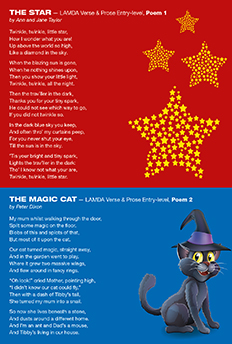 Knowledge
The Learner will answer questions on the following:
The general content of both verse selections
The meaning of four individual words or phrases taken from the two verse selections (selected by the Examiner at the time of the examination)
HOW TO ENTER THE EXAMINATION
You will be required to video record your child performing their poems.
Please send this self tape to Daniel for assessment. This assessment will cost £10.00. This fee will be added onto your exam invoice. Videos should be recorded in low resolution (See your phone settings) and either emailed to This email address is being protected from spambots. You need JavaScript enabled to view it. or uploaded to YouTube (unlisted link) or Dropbox (link).
Please make sure you have read the examination costs below. We will not be entering any children for an August examination who have not made a minimum contribution towards their fees.
DEADLINE: Monday 15th June


EXAMS:
During this difficult COVID-19 time we very much view examinations as a luxury. Our team are working incredibly hard behind the scenes to provide classes and online programmes, but we do need fee payments in order to pay our team. Everyone is welcome to begin working on an examination. It would however be inappropriate to pay for a summer examination if no summer fee payment has been made to Sharpe. We have therefore introduced a minimum payment requirement should you wish to take an August examination.
Providing you booked onto our LAMDA Acting course in the Spring term, paid your £25.00 LAMDA course fee and have made at least a 50% contribution towards your Musical Theatre summer fees you may work towards a summer exam. Assessment & Exam fees are below.
If you did not book onto our LAMDA course and wish to begin, you may work towards a summer exam providing you have paid a 75% contribution towards your Musical Theatre fees. Assessment & Exam fees are below.
If you would like to work towards a December exmaination you may do so without any fees due at this time. A LAMDA course fee of £25.00 will be payable in the Autumn term alongside your Autumn term Musical Theatre Fees. Assessment and exam fees are below.
EXAMINATION FEES (1st August 2019-31st July 2021):
| | |
| --- | --- |
| ENTRY | Entry Grade - £54.00 |