True confidence is built not by climbing one mountain, but by slowly, over many years, facing obstacles or issues and, through your experience, dealing with these obstacles and issues in a better and more constructive way. A shy child may always be a shy child, but with experience they have the confidence to step forward and the ability to succeed in life without their shyness becoming an issue. The biggest mistake parents make is to compare their child to others of the same age. Children of the same age do follow a similar path at school or in activities, but their personalities are so different it's impossible to compare their achievements, as they have not had the same foundation or the same shared experiences in order to obtain those achievements.
At Sharpe Academy we aim to provide a solid foundation of experiences for children of all ages to learn from. Group classes allow children to work at their own pace working on singing, acting, dance and performance. Private lessons can take students to the next level and then we provide advanced classes in performance and dance to climb even higher. For example you can't take a principal role in a show without first learning how to be in the ensemble. If children are pushed too early they feel pressured and usually end up giving up the activity altogether. Our ACT 1, 2 and 3 classes work on this initial stage to prepare students for our Company classes. Teamwork, concentration, presentation and commitment are worked on each week to evolve our students into more confident and better skilled young men and women.
Through performance we work on how students present themselves. This may be in a production, but equally as they grow older it also encompasses how they present themselves to the wider world. Good behaviour, manners and social skills are key principals in performance. Our sixth formers are confident young adults who leave us to study a wide variety of subjects at university or specialist colleges. In previous years this has included not just the performing arts, which many of our students go on to study, but also Law, Medicine, Education, Sport, Military Service, Economics, Social Sciences and Media.
Confidence takes time to build, but when worked on at the correct pace for each individual student it lasts a lifetime. I want everyone to feel part of something being a student at Sharpe Academy and we encourage a family atmosphere where students can develop in both confidence and skill making friends along the way.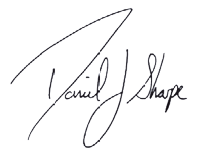 Daniel Sharpe
Managing Director